← Ep. 6
← Ep. 8
Ep. 10 →
Castiel: That's according to April.
Dean: The Reaper you banged.
Castiel: Yeah, and you stabbed.
Dean: Yeah. She was hot.
Castiel: So hot. And very nice.
Dean: Mm.
Castiel: Up to the point she started torturing me.
Dean: Yeah. Well, not every hookup's perfect.

Very very short review, just to say: oh, what an episod! Terrific!! Wonderful!! So many things happened! Some made me happy, some made me extremely sad, almost all shocked me a lot!
But, at the end, there is only one thing in my mind, that really really pissed me off:
Enjoy praying Castiel: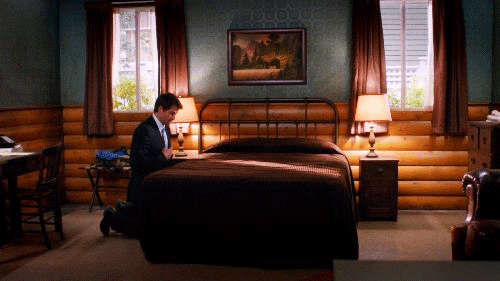 As usual, some actors, writers, etc.
commented live
the episode on Twitter, and as usual Misha Collins was the funniest! Here some of his tweets.
Interesting fact: we actually burned real human bodies to get those burn marks on the floor.

— Misha Collins (@mishacollins) December 4, 2013
I want that to be what it says on my tombstone, "He was top of the christmas tree."

— Misha Collins (@mishacollins) December 4, 2013
In this scene production said they were out of money for makeup, so they just had @bodyguard4JandJ and @osricchau beat the shit out of me.

— Misha Collins (@mishacollins) December 4, 2013