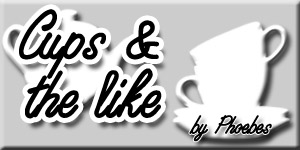 I am a beginner tea-addicted, but I have already developped an insane passion for "tea objects", or rather cups, teapots and everything else I'd like to buy, plus some few things I own.
So I made this little feature, in wich I can show you my wishes and my possessions about tea stuff. :)
Sono una tea-addicted ancora agli inizi, ma ho già sviluppato un'insana passione per gli oggetti del tè, ovvero tazze, teiere e quant'altro vorrei comprare, più poche cosette che possiedo.
Così ho creato questa rubrichetta, in cui posso mostrarvi i miei desideri e le cose che già possiedo riguardanti il tè. :)
Only in italian, this time, sorry!
Non appena ho scoperto l'esistenza delle tisaniere, ho deciso che una doveva essere assolutamente mia!! L'ho presa nella solita Bottega del Mondo, alcuni anni fa, quando, devo ammetterlo, non c'era molta scelta in questo settore. Lo dico perché... bè, non sono molto soddisfatta di questo mio acquisto!
Intendiamoci, non è che ne presi una a caso, ho scelto questa perché mi piaceva un sacco e, a dirla tutta, ancora mi piace moltissimo. Qual è il problema, allora? Le dimensioni!
Non so se si capisce da queste foto, ma non è grande come una mug qualsiasi, è ben più grossa! A meno di non voler bere una teiera intera, non va certo bene per farsi un tè!
Senza contare che grossi sono pure i buchi del colino, per cui a meno di non aver foglie intere di tè, di sicuro non filtra per niente bene! E lo dico per esperienza, perché c'ho anche provato ad usarla!
Quindi, che ho fatto, l'ho lasciata a vegetare nel ripiano della cucina? Ovviamente no! La uso comunque come tazza normale, specie per alcune tisante che richiedono un'infusione lunga per cui mi fa comodo avere il coperchio. Il filtro però non lo uso mai!