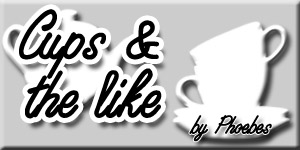 I am a beginner tea-addicted, but I have already developped an insane passion for "tea objects", or rather cups, teapots and everything else I'd like to buy, plus some few things I own.
So I made this little feature, in wich I can show you my wishes and my possessions about tea stuff. :)
Sono una tea-addicted ancora agli inizi, ma ho già sviluppato un'insana passione per gli oggetti del tè, ovvero tazze, teiere e quant'altro vorrei comprare, più poche cosette che possiedo.
Così ho creato questa rubrichetta, in cui posso mostrarvi i miei desideri e le cose che già possiedo riguardanti il tè. :)
Only in italian sorry!
Il nome di questa tazza non sta ad indicare un mio particolare attaccamento verso di essa, per cui la considero mia più di tutte le altre che possiedo. Anzi, è una delle ultime arrivate, quindi forse, anche se mi piace molto, non le voglio ancora bene come alle altre care tazzine che accompagnano le mie bevute anche da anni! :) Il fatto è che si chiama proprio così, "mia".
L'ho comprata nella solita Bottega del Mondo. La adocchiavo da parecchio, perché mi piaceva il disegno floreale e il colore (lilla, mi dicono), e per di più costava un po' meno delle tazze che si vendono lì. Qualche sabato fa, durante il mio turno, una cliente guarda un po' di tazze mug, tra cui questa, e mi fa notare che è un po' scheggiata.
E allora lì è subentrato il mio lato sentimentale, ho cominciato a pensare "Ma povera tazzina! Nessuno la vuole! Ora è anche menomata, non se la compreranno mai!" E così l'ho presa io! :)
Eccola qua, in tutto il suo splendore! Avete notato, sì, che anche il manico è decorato? :) Mi sa che forse prima ho mentito, è arrivata da poco in famiglia ma già la amo moltissimo!!!!
E' stata formata nel 1996 e si occupa di sostenere i gruppi di artigiani svantaggiati in Vietnam. Craft Link si impegna a rivitalizzare la cultura e le tradizioni dei differenti gruppi etnici presenti nel paese. Per fare questo supporta la produzione artigianale, nello sviluppo prodotti e nel marketing, al fine di aumentare le entrate e di migliorare lo standard di vita dei produttori. Una parte importante dell'azione di Craft Link è rivolta al rafforzamento del ruolo della donna nelle aree del progetto.
Craft Link lavora con 50 gruppi di produttori presenti in tutto il Vietnam coinvolgendo nelle sue attività oltre 5.000 produttori.