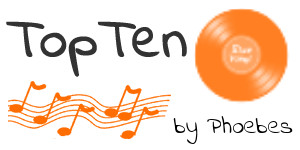 Another (not so) weekly feature, this one about music. I'll share with you every time a very personal Top Ten about a different theme. If you want, you can suggest a theme! :)
Un'altra rubruca (non proprio) settimanale, questa sulla musica. Condividerò con voi una Top Ten molto personale su un diverso tema. Se volete, potete suggerirmi un tema! :)
Only in italian, sorry!
Le canzoni che trattano di amori infelici sono credo la stragrande maggioranza. Io le chiamo anche "canzoni pera". Non ricordo di preciso l'etimologia di questa frase, ma credo forse si riferisca al fatto che sono canzoni talmente deprimenti che ti fanno venire voglia di farti una pera, o forse canzoni che danno assuefazione se ascoltate in determinati momenti della vita... non so! Fatto sta che comunque questo non è assolutamente il mio genere preferito!!! Nonostante questo, ci sono comunque alcuni brani che parlano di storie d'amore finite male che nonostante il tema triste mi piacciono molto. Ecco le mie dieci preferite!
10
Non Me Lo So Spiegare
Tiziano Ferro
Non ci posso fare niente, la adoro questa canzone!!!
Solo che pensavo a quanto è inutile farneticare
E credere di stare bene quando è inverno e te
Togli le tue mani calde
Non mi abbracci e mi ripeti che son grande,
mi ricordi che rivivo in tante cose...
nananana...
Case, libri, auto, viaggi, fogli di giornale
Che anche se non valgo niente perlomeno a te
Ti permetto di sognare!
LINK
09
Somebody That I Used To Know
Gotye
Due persone che si amavano, si lasciano, e adesso sono come due estrani, "qualcuno che conoscevo".
LINK
08
Minuetto
Mia Martini
Questo non è un amore finito male, perché la storia d'amore è ancora in corso, ma è una storia "sbagliata", uno di quei classici casi in cui uno dei due ama di più e quindi soccombe (come insegna Marco Ferradini "chi meno ama è più forte si sa"!)
E vieni a casa mia, quando vuoi, nelle notti più che mai,
dormi qui, te ne vai, sono sempre fatti tuoi.
Tanto sai che quassù male che ti vada avrai
tutta me, se ti andrà per una notte...
... E cresce sempre più la solitudine,
nei grandi vuoti che mi lasci tu!
LINK
07
It Must Have Been Love
Roxette
Lei seduta sul sedile posteriore della limousine che la porta via, lui sul terrazzo cerca di sbirciare giù e vincere le vertigini:
Deve essere stato amore, ma ora è finito
Deve essere stato bello, ma l'ho perso, in qualche modo
Deve essere stato amore, ma ora è finito
Dal momento in cui ci siamo toccati fino a quello in cui sono fuggita
Il momento più triste del film più romantico di tutti i tempi (opinione personale, ovviamente!), e questa canzone a fare da sottofondo musicale, entrando nel cuore di molti... nel mio sicuramente!
[NdB (Nota della Blogger): il film in questione ovviamente è
Pretty Woman
]
LINK
06
Se perdo te
Patty Pravo
M'hai insegnato a volerti bene
hai voluto la mia vita
ecco, ti appartiene
ma ora insegnami, se lo vuoi tu
a lasciarti, a non amarti più!
Magnifica!!!
LINK
05
Quando Sarai Lontana
Jovanotti
Canzone dall'album "Una tribù che balla", quindi uscita più di vent'anni fa. Io ero piccola, ricordo, e cantavo e ricantavo a squarciagola questo ritornello:
Ma quando un giorno sarai lontana
e vedrai il cielo quando si colora
pensami almeno per un momento
pensami almeno per mezz'ora!
Inutile dire che mi è rimasta nel cuore!
LINK
04
Love of my life
Queen
Questa è forse la canzone più triste tra quelle di questa Top Ten, ma... come non amarla? Ok, sono di parte, forse pure "Giro giro tondo" cantata da Freddie mi farebbe venire i brividi, ma è questa canzone è secondo me indiscutibilmente emozionante: solo un piano, una chitarra, quella voce e un cuore spezzato.
Amore della mia vita, non lasciarmi
hai preso il mio amore, e ora mi abbandoni
Amore della mia vita, non te ne accorgi?
Riportalo indietro, riportalo indietro
non portarmelo via
perché non sai
cosa significa per me
LINK
03
Un'altra cosa che ho perso
Articolo 31
Un'altra canzone che adoro a prescindere dal tema. Troppo bella, con la voce di J Ax venata di un'inconsueta dolcezza...
Ho perso treni e aerei
più d'una volta il portafoglio
ho perso indirizzi, soldi, ma mai l'orgoglio
LINK
02
Fotoromanza
Gianna Nannini
Questo amore è una camera a gas
è un palazzo che brucia in città
questo amore è una lama sottile
è una scena al rallentatore
[...]
questo amore è un gelato al veleno
Adoro questa canzone! Tra queste dieci è la mia preferita!! Non la metto al primo posto solo per un motivo... che spiegherò qui sotto!
LINK
01
Nessun rimpianto
883
Eccola qua!!! Anche se non è la mia preferita, non potevo non metterla al primo posto perché, per quanto mi riguarda, questa è la
canzone pera
per eccellenza, nonostante il video trashissimo!!! :)
non ho
nessun rimpianto nessun rimorso
soltanto certe volte capita che
appena prima di dormire
mi sembra di sentire
il tuo ricordo che mi bussa
e mi fa male un po'
LINK