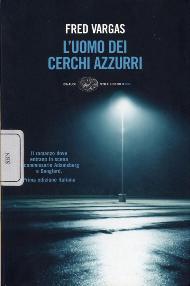 by Fred Vargas
Detective Adamsberg series
Seeking Whom He May Devour
→

Rating: 9/10


Victor, woe's in store, what are you out here for?
The Chalk Circle Man
Commissaire Adamsberg has just been transferred to Paris, and is having an hard time gaining acceptance by his new colleagues who make comments about his appearance and smile abot his oddities. One of these is the obsession with the circle man, a mysterious guy who occasionally, at night, has fun drwing blue chalk circles on the street, around random objects found on the ground. Some people believe he's an innocent exhibitionist, some other admire him, some disapprove, but no one seems to care too much about him, except Adamsberg, who keeps an eye on him because he perceives something cruel. Unfortunately, the facts speak for themselves when, for the first time, a corpse is found inside a circle.
Commissioner Adamsberg's first investigation has already all the characteristics to engage readers and to make them to fall in love, or at least it worked for me! The
characters
are definitely the main attraction, so well delineated in their eccentricity, starting from the protagonist. The
plot
is intriguing and the mistery element is charming and well run. This is the second novel written by Vargas that I read, and once again I let myself be enchanted by her
style
and, above all, her characters!
Book Info
Title
: The Chalk Circle Man
Author
: Fred Vargas
Series
: Adamsberg (1)
Original title
:
L'Homme aux cercles bleus
Italian title
:
L'uomo dei cerchi azzurri
First publication date
: 1996
Italian translation
: Yasmina Mélaouah
Pages
: 238
Links
:
ANOBII
-
GOODREADS