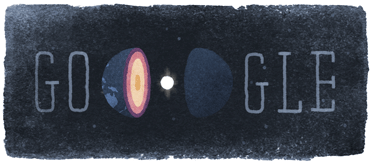 Today, thanks to Google, I discovered that's Inge Lehmann's birthday. And I also discovered that Lehmann is a
she
. Shame on me, but for all these years I knew
Lehmann discontinuity
, I always thought about Lehmann as a man, or maybe I never particularly thought about their gender, but when I discovered she was a woman, it surprised me. And that's sad. So, I wanted to share her birthday with you. Because here at
Defying Gravity
we love Science, and scientists, and we are partycularly fond of female scientists.
HAPPY BIRHDAY INGE LEHMANN!!!
Oggi, grazie a Google, ho scoperto che è il compleanno di Inge Lehmann. E ho anche scoperto che Lehmann è una
lei
. Me ne vergogno, ma per tutti questi anni conoscevo la
discontinuità di Lehmann
, ho sempre pensato a Lehmann come un uomo, o forse non ho mai particolarmente pensato al suo genere, ma quando ho scoperto che era una donna, sono rimasta sorpresa. E questo è triste. Così, ho voluto condividere il suo compleanno con voi. Perché qui a
Defying Gravity
amiamo la Scienza e gli scienziati, e siamo particolarmente affezionati agli scienziati donne.
BUON COMPLEANNO INGE LEHMANN!!!