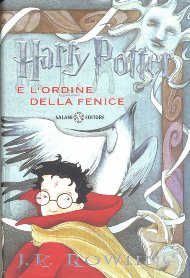 by
J.K. Rowling
After more than one re-reading, i listened to the audiobook version, and I still have a lot of things to say about this book. I'll try to be as shortest as possible.
Luna Lovegood: how much I love her!!! Since her first appearance she attracted me for her oddness, but the serious moments made me really love her: the fact that despite her perpetually amazed and dreamy air she always seems to know what to do, and she's always unflappable. Very moving her goodbye to Harry
Dumbledore is as always one of my favourite characters. In one of the last chapters (36, entitled "The Only One He Ever Feared") we see him in action, to show us why in fact he's the only wizard Voldemort ever was afraid of. But it is in the next chapter that I liked this character more than ever, and it's when Dumbledore admits to be human.
This novel remains one of my favorites of the series: exciting in every sense, with sad scenes, cheerful, fun, thrilling ... it has it all!