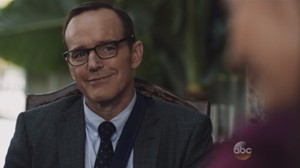 ← Ep. 11 "Bouncing Back"
Ep. 13 "Parting Shot" →

Rating: 9/10
In this episode Coulson goes incognito at an international conference with Talbot, wearing a suit and glasses: so charming!
Malick still does not trust the Thing (don't know how to call it!) who meanwhile continues to take information from anywhere, through increasingly numerous TV screens, and now books.
I liked this episode more than the previous one: more adrenaline, more thrills and more plot twists. Yet I still feel the short presence of some characters, especially Mack that, without any explanation, is totally absent: why?!?!