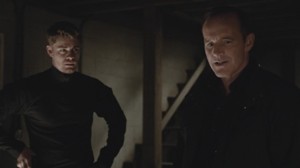 ← Ep. 13 "Parting Shot"
Ep. 15 "Spacetime" →

Rating: 7.5/10
The episode starts with Mack who took a vacation to be with his brother Ruben, in a scene that foreshadowed two possible developments for each other: a boring episode dedicated to introspection of the character of Mack (I mean, I like him but not really appreciate episodes in which nothing happens!) or... something bad has to happen to this guy!
There is an unexpected return in this episode:
Again no Ward/Thing in this episode. All in all a nicer episode than I thought, but definitely below average, and this time IMDb agrees with me.