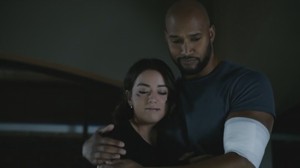 ← Ep. 15 "Spacetime"
Ep. 17 "The Team" →

Rating: 9/10
Coulson: We're in the dark. But right now Ward and this thing... they're not afraid to take what they want, to kill who they want. So what's our advantage?

Mack: They're not afraid.
Ward/It/Neo is proving to be a more complex and interesting character than I thought. First of all, his plan is not so clear, according to Giyera he doesn't want the destruction of all mankind. And then he continues to show those feelings that are not his own, but are from the people who hosted him through the centuries. Investigating about him
Very nice episode, very addictive as the previous one in terms of plot, action, discoveries and emotions.