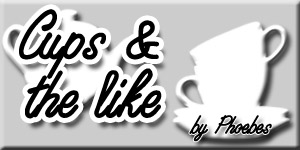 I am a beginner tea-addicted, but I have already developped an insane passion for "tea objects", or rather cups, teapots and everything else I'd like to buy, plus some few things I own.
So I made this little feature, in wich I can show you my wishes and my possessions about tea stuff. :)
Sono una tea-addicted ancora agli inizi, ma ho già sviluppato un'insana passione per gli oggetti del tè, ovvero tazze, teiere e quant'altro vorrei comprare, più poche cosette che possiedo.
Così ho creato questa rubrichetta, in cui posso mostrarvi i miei desideri e le cose che già possiedo riguardanti il tè. :)
Only in italian, sorry!
Uno degli ultimi arrivi (forse proprio l'ultimo? Non ricordo bene!) nella mia famiglia di tazze (prima o poi farò una foto di gruppo, solo per vederle tutte allegramente insieme!). Ricordo che in
Bottega
erano arrivate delle nuove bellissime tisaniere che io osservavo con sguardo avido. Però la tisaniera è un oggetto di cui non sento tanto il bisogno, preferisco le tazze, e anche se mi piacevano tutte moltissimo il prezzo piuttosto alto mi ha fatto desistere dal comprarle.
Poi però ho scoperto che ne era arrivata una fallata, senza coperchio... e allora ho pensato: non la possiamo più vendere come tisaniera, ci tocca abbassarle il prezzo e venderla come tazza... insomma, ho approfittato della sventura, e l'ho presa per me!
Nella foto qui sotto c'è anche il colino, a testimoniare che una volta questa tazza è stata una tisaniera! :)
Il caso poi ha voluto che quella fallata fosse anche la mia preferita, con questo bel colore tra il rosso e l'arancione!
Non sono riuscita a rendere bene nelle foto una sua particolarità: la tazza ha una forma quadrateggiante, non proprio dritta come un quadrato, ma non è neanche proprio tonda. Insomma, metà e metà, ma tutta bella, sicuramente!!!! :D
Questa tisaniera diventata tazza viene dal Vietnam, realizzata dagli artigiani del Craft Village, un'organizzazione formata da un gruppo di giovani vietnamiti che ha come scopo di sviluppare e valorizzare i prodotti tradizionali creati da piccole imprese a livello familiare, commercializzandoli sia sul mercato locale che sul mercato italiano del commercio equo e solidale, al momento il loro unico sbocco commerciale estero.
Il motivo del legame tra questa organizzazione e il nostro Paese risale alla sua origine: il progetto infatti è nato grazie all'intervento dell'ONG italiana Reorient, che ha coinvolto un gruppo di orfani e ragazzi di strada vietnamiti in attività di tipo educativo, culturale e formativo. Lo stesso responsabile di Craft Village, May, ha beneficiato di tali interventi e ha avuto la possibilità di studiare in Italia.
Questa tazza è ben presto balzata in cima al mio gradimento, anche perché ha proprio la forma e le dimensioni che preferisco, e infatti la vedete (e vedrete) spesso nelle foto dei miei tè!!! :D